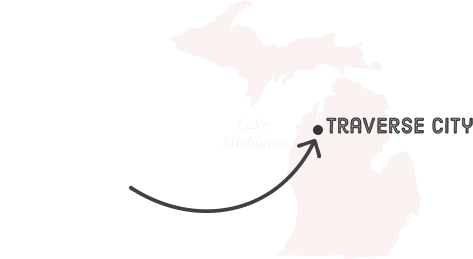 Northern Michigan's True North
Lakemore Retreat is located on Arbutus Lake,
10 miles from downtown Traverse City.
—The—
LODGE
The "Industrial Chic" style will remind you of the mountains, but the show stopping sunset views will make you glad to be vacationing in northern Michigan.
Lodge Features


—The—
COTTAGE
Offers a vintage lake house style leaving you with a sense of nostalgia, while at the same time providing the latest in technological conveniences.
Cottage Features


—The—
Cabin
A completely renovated home, with craftsmanship, home technology and new furniture, yet still offering the charm and character of a decades old family cabin.
Cabin Features


Relax & Rejuvenate
With three tastefully designed and furnished homes, Lakemore Retreat is a perfect destination for families, couples, or groups. Enjoy the many benefits of this all sports inland lake where the 395 acres are swimmable from May until October, the fishing is plentiful and the conditions are perfect for many water sports including kayaking, stand up paddle boarding, water skiing and tubing, all while being minutes away from Traverse City's restaurants, shops, wineries, golf and more. Lakemore Retreat is directly adjacent to The Brown Bridge Quiet Area which offers miles of hiking trails, and to Boardman Valley Trail system, 81 miles of snowmobile trails.